Cybertronian weaponry show amazing power and strength in their skill of different vairety of weaponry
Light Weapons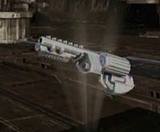 The Scatter is known as a short-ranged Cybertronian weapon that can be equipped as a standard primary.
The Neutron Assault Rifle resembles sort of a Gatling gun, or automated weaponry used now. Reloads are called for, but not after a long period of shooting,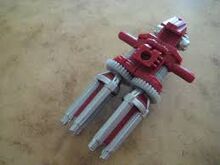 The Repeater is a subsonic gun that gives in close resemblance to the Neutron Assault Rifle, however, the weapon is told to have less capacity
The Path Blaster acts as a weapon that uses not too much power, but is still good when hit exact targets.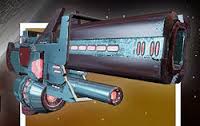 The Riot Cannon is the most powerful of all light weapons. amazing power that just one hit couldnt kill two units that are side-by-side
Quote: (If you just need to kill every ------------ in the room, this is the perfect weapon for you).
The Charge Rifle acts as a Sniper target gun that can easily be used in battle with advanced zoom, but its good in close range shootouts.
The Photon Rifle is a counterpart to the Assault Rifle, except it uses up less ammo at a time, and fires three shots rapidly at a time.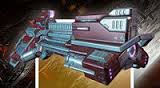 The throwback is, different than the others. It shoots a pink laser and makes a retro "pew pew pew" noise.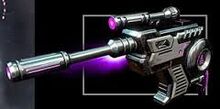 Heavy Weapons
Heavy weapons have no main users
The X18 is a large version of the Light Weapon, Neutron Assault Rifle. The X18 is a weapon that's impossible to reload and has all its shots in one place. It takes about a 1 second stall before it begins to fire so it can charge.